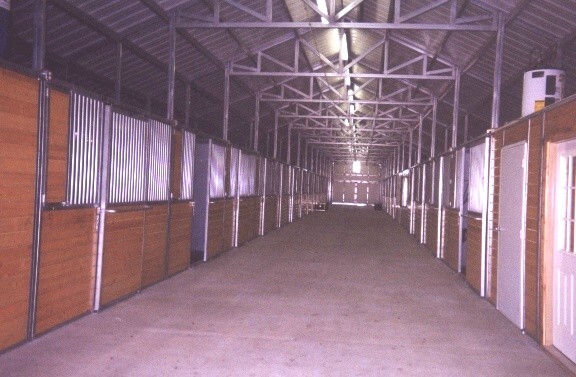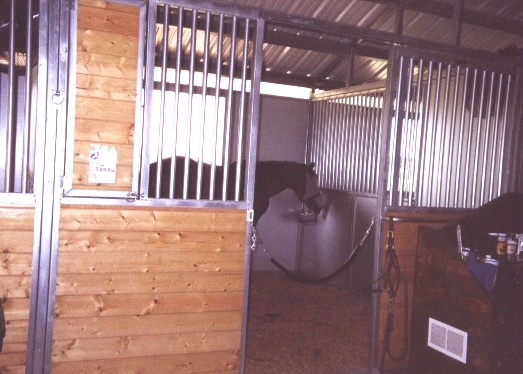 The state of the art facility was built in May 2001. Situated on 31 acres, on a quiet dead end road, it features spacious surroundings for pleasure riding including scenic pond and picinic area. Two full time employees live on the property providing security and care for the horses around the clock. The barn includes:
32 (12' x 12') Stalls with grill dividers and window

Automatic waterers

Automatic Fly Spray System

Electrical outlet to enable a cooling fan to be installed for each horse
The interior of the barn has a 16' concrete aisle, high pitched ceiling for ventilation and metal stalls trimmed in the front with pine wood for an attractive look. Many stalls have bars between them so that horses may see those next to them as well as across the way. This feature, along with the window in each stall, allows the horses to view activity all around them to help alleviate boredom. A few stalls do not have the interior bars for horses who do not interact well with other horses. Boarders are welcome to place their own wooden tack trunk at their stall.
Horse & Hound Stables is a top quality, personalized, full care facility. Daily horse care includes:
Feeding 3 times

Additional personalized supplements provided by the owners are given free of charge

Stall cleaning, including weekends

Turnout into large, individual pastures 7 days a week. Night turnout is available.

Vet and Farrier on Call
Trailer Parking
Tack Room and Heated Wash Racks
Pastures are fenced with state-of-the art HTP fencing with electric tape which eliminates play across fences and prevents the horses from injuring each other.
Boarding Fees
- Full Board: $ 575.00/month
- Fan fee (summer only): $25.00/month